Finish expense reports in seconds, and easily post your expenses and invoices to Exact Online
ABUKAI Expenses can immediately help you save time creating your expense reports or entering invoices. ABUKAI Expenses eliminates all the cumbersome work associated with creating expense reports and invoices including typing data from receipts, categorizing expenses and looking up exchange rates.
Step 1. Simply take a picture of each receipt or invoice with your iPhone, BlackBerry or Android device while on the road or at the office.
Step 2. Press "Submit" whenever you are ready.
You receive a completed expense report with cost categorization, date, vendor and all the other information already filled in, along with a copy of all the receipt images. In only 2 steps! ABUKAI Expenses automatically creates the expense entries for you. Even better, with the new
Exact Online Integration
, ABUKAI Expenses will directly post all transactions into Exact Online for you. The Exact Online Integration is available for Standard Corporate Accounts or Custom Corporate Accounts.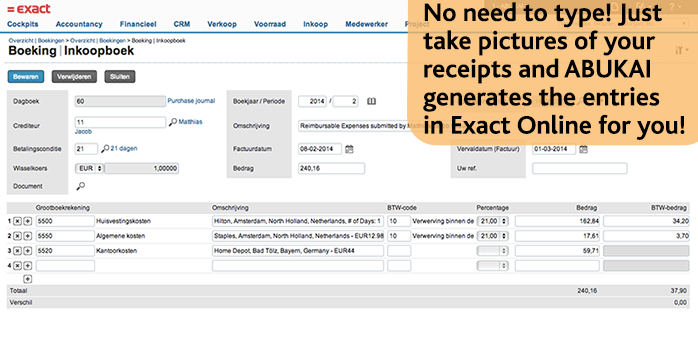 Additional Options
ABUKAI can also enable a
VAT module
to recognize tax amounts from receipts and add them to Exact Online for VAT reclamation purposes, depending on your chart of accounts.
Another option is the
"out-of-pocket" feature
that enables ABUKAI Expenses users to distinguish out-of-pocket expenses, reimbursable to the employee, from company-paid invoices. With this option, ABUKAI users can easily scan both corporate invoices as well as their travel expenses.
ABUKAI also offers an
Approval module
that allows any possible routing of expenses and invoices for approvals per your requirements.
Please contact ABUKAI Sales to request your custom quote
here
.
Connecting ABUKAI Expenses with your Exact Online Account
When you sign up for your ABUKAI Standard Corporate Account, please indicate under "expense report format" that you would like to utilize the Direct Upload to Exact Online. Once you receive the log-in information for your ABUKAI Corporate Account, please follow these four steps:
1) Log into your ABUKAI Corporate Account portal at
http://abukai.com/corporate
.
2) Click "Authenticate" and follow the on-screen instructions.
3) Paste the application key you generated in Exact Online, select the Exact country URL, and enter your Exact username and password.
4) Select the organization that ABUKAI Expenses should post data to.
Once ABUKAI Expenses and Exact Online are linked, each expense report submission will appear directly in your Exact Online Purchase Journal (under Bookings), including all the key data.
What is Exact Online?
Exact Online is one of Europe's leading accounting, CRM and industry-specific solutions for SMEs in the Accountancy, Manufacturing, Professional Services and Wholesale Distribution sectors. Over 145,000 companies already use Exact Online business software. For more information, please click
here
.