Finish expense reports in seconds, and easily post your expenses and invoices to KashFlow
ABUKAI Expenses can immediately help you save time creating your expense reports or entering invoices. ABUKAI Expenses eliminates all the cumbersome work associated with creating expense reports and invoices including typing data from receipts, categorizing expenses and looking up exchange rates.
Step 1. Simply take a picture of each receipt or invoice with your iPhone, BlackBerry or Android device while on the road or at the office.
Step 2. Press "Submit" whenever you are ready.
You receive a completed expense report with cost categorization, date, vendor and all the other information already filled in, along with a copy of all the receipt images. In only 2 steps! ABUKAI Expenses automatically creates the expense entries for you. Even better, with the
KashFlow Integration
, ABUKAI Expenses will directly post all transactions into KashFlow for you. The KashFlow Integration is available for Standard Corporate Accounts or Custom Corporate Accounts.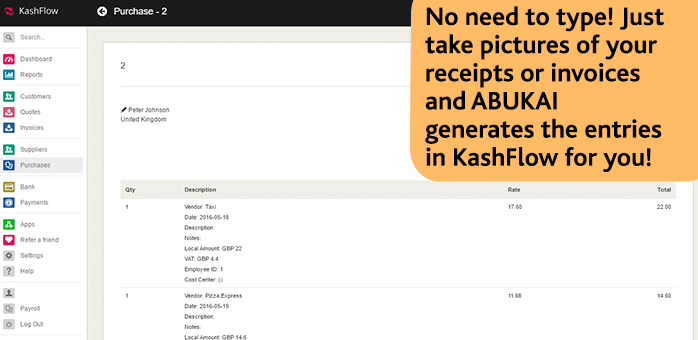 Additional Options
The
"out-of-pocket" feature
enables ABUKAI Expenses users to distinguish out-of-pocket expenses, reimbursable to the employee, from company-paid invoices. With this option, ABUKAI users can easily scan both corporate invoices as well as their travel expenses. For out-of-pocket expenses, ABUKAI will directly generate a single purchase payable to the employee in KashFlow with all the expenses listed. Otherwise ABUKAI will generate separate purchases in KashFlow, payable to the different vendors, all directly from your scans.
The optional
"multi-activity" feature
enables customers to track expenses against different jobs in KashFlow.
ABUKAI also offers an
Approval module
that allows any possible routing of expenses and invoices for approvals per your requirements.
Please contact ABUKAI Sales to request your custom quote
here
.
Connecting ABUKAI Expenses with your KashFlow Account
When you sign up for your ABUKAI Standard Corporate Account, please indicate under "expense report format" that you would like to utilize the Direct Upload to KashFlow. Once you receive the log-in information for your ABUKAI Corporate Account, please follow these steps:
1) Log into your ABUKAI Corporate Account portal at
http://abukai.com/corporate
.
2) Click "Authenticate" and follow the on-screen instructions.
3) Enter your KashFlow username and password, and press "Submit."
Once ABUKAI Expenses and KashFlow are linked, each expense report submission will appear directly in KashFlow as purchases, including most key data.
What is KashFlow?
KashFlow has been providing intuitive online accounting software for small business owners. As of today, the company has tens of thousands of users, dedicated teams in the United Kingdom and India, and has won multiple awards. In 2013, KashFlow was acquired by IRIS. With over 50% of UK accountants using IRIS software, the partnership offers KashFlow the chance to improve KashFlow's relationship with accountants.