Finish expense reports in seconds, and easily post your expenses or invoices to Xero
ABUKAI Expenses can immediately help you save time creating your expense reports or entering invoices. ABUKAI Expenses eliminates all the cumbersome work associated with creating expense reports and invoices including typing data from receipts, categorizing expenses and looking up exchange rates.
Step 1. Simply take a picture of each receipt or invoice with your iPhone, BlackBerry or Android device while on the road or at the office.
Step 2. Press "Submit" whenever you are ready.
Employees receive their completed expense report with cost categorization, date, vendor and all the other information already filled in, along with a copy of all the receipt images. In only 2 steps! ABUKAI Expenses automatically creates the expense reports for them.
Even better, with the Xero Integration, ABUKAI Expenses will directly post all transactions into Xero for you.
Download ABUKAI Expenses to your iPhone, BlackBerry or Android device and select the Xero option through the ABUKAI User Portal.
Connecting ABUKAI Expenses with your Xero Account
1) Log into the ABUKAI User Portal at
http://abukai.com/user
. Use the email you used in the ABUKAI mobile app.
2) Under Setup, select Xero, and click "Continue."
3) Follow the on-screen instructions, click "Authenticate" and enter your Xero username and password, and
select the organization that ABUKAI Expenses should access.
After successfully authenticating your Xero account, please make sure to enter your firstname and lastname as used in Xero Accounting in the User Profile so that ABUKAI can match up your expenses to your Xero account.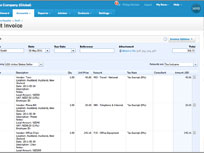 Each expense report submission will appear directly in your currently open expense claim in Xero, including all the data and receipt images. With an ABUKAI Corporate Account, ABUKAI Expenses can also post data directly into Xero's Accounts Payable module instead of Xero's Expense Claims module.
What is Xero?
Xero is an online accounting system that gives you and your advisors easy access to your bank transactions, invoices, reports & GST anytime you need it, anywhere in the world. It includes 24/7 secure online access, automatic bank imports, free automatic upgrades, and of course support for ABUKAI Expenses.
Find out more or try
Xero Accounting Software
for free.